Try to imagine a place more or less 8,000 feet above sea level, with a temperate climate, and with colorful blooming flowers and hanging gardens lush with vegetables, inhabited by peace loving people. This is the Province of Benguet.

In Benguet, you will have the rare privilege to trek our primeval mountains and have your breath taken away by the awesome view of our steep towering cliffs. Visit the hydroelectric dams and commune with our cultural heritage by participating in our festivals and dancing with the beat of the gongs to your heart's content. Touch the morning fog and feel the fresh cool breeze as you pass by Halsema Highway in your travel to adjacent provinces and you will surely cherish your trip. Explore the various tourist destinations of the thirteen (13) municipalities. Experience their simple but happy life.

This website will give you a glimpse of our beloved province and what it has to offer. It will guide you in discovering the people's indigenous culture, traditions and beliefs conveyed in their customary rites and festivities, food and crafts. Leave us your comments so we could provide you with whatever information you need to know. We look forward to your valued contribution for the success of our programs and other provincial endeavors.

Have a great adventure!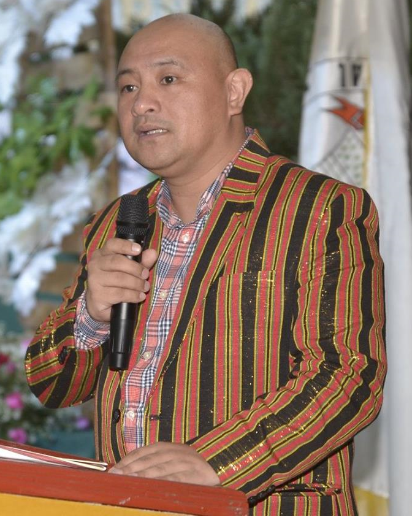 MELCHOR DAGUINES DICLAS, M.D.
MELCHOR D. DICLAS, M.D., was born on March 18, 1973 in Buguias, Benguet. A Filipino citizen, a Medical Doctor and a Politician, elected as the 22nd Governor of Benguet at the age of 46.

He is the second among the five children of their loving parents, Mr. Virgilio Diclas of Tinoc, Ifugao and Natubleng, Buguias and Mrs. Cecelia Daguines – Diclas of Amlimay and Natubleng, Buguias. As a young man, he is already envisioned/dreamed of becoming someone who would be of good service to the people.

He finished his elementary level at Natubleng Elementary School, entered and finished his secondary level at San Jose High School in La Trinidad, Benguet and Saint Paul's Academy at Atok, Benguet.

Perhaps he is destined to become a doctor, from his initials itself, M.D. (Melchor Diclas). He decided to take Bachelor of Science in Biology with the vision of becoming a doctor.

He continued his studies of medicine both in Saint Louis University and later with his Medical internship still at Saint Louis University in Baguio City in 1997. He passed the Physician Licensure Examination in August 1998. From 2001-2004, he finished his Specialty Training in General Surgery at Baguio General Hospital Medical Center. Then, later Rotated for Hepatobiliary and Pancreatic Surgery at the University of the Philippines – Philippine General Hospital.

He is a fellow of Philippine College of Surgeons and Fellow Society of General Surgeons.

Even during his college days, he has a potential of becoming a great leader. In 1996, he was elected as the Governor for the College of Medicine Saint Louis University – Supreme Student Council and at the same time, he was the President of Samahang Medicina, College of Medicine in SLU.

After graduation and passing the Physician Licensure Examination, he worked as a Medical Officer III at Eduardo Joson Memorial Hospital in Cabanatuan, Nueva Ecija in the year 2000. For the love of his hometown, he decided to transfer/apply at Baguio General Hospital and was hired as Medical Officer III at the General Surgery Department. He has been visiting as surgical consultant at various Hospitals within the province such as the Lutheran Hospital Inc. in Abatan, Buguias; Atok District Hospital; and Pines City Doctors' Hospital, Baguio City. Among others, he was also the Medical Consultant of Baguio General Hospital Medical Center (BGHMC) from 2017-2018 before deciding to pursue his political career.

Due to his dedication to serve his hometown, even at a young age while in college, he was elected as SK Chairman of his native place, Natubleng, Buguias, Benguet, in 1992.

By then, in 2007, thinking of how to be of great help to others, he decided to run for Municipal Vice-Mayor and succeeded, he pursue practicing his profession as a Medical Doctor. After one term as Vice-Mayor, he decided to run as a Municipal Mayor and got the heart of the people of Buguias. With his outstanding performance during his two (2) terms as Mayor, he was awarded the Seal of Good Housekeeping in 2011 and Seal of Good Financial Housekeeping in 2014.

Married Life:

He is married to Ever Kigangan from Kabayan, Benguet on May 2012. They were blessed with three beautiful children, named after them: Melchor K. Diclas Jr., Ever Myrrh K. Diclas and Mallix Melchor K. Diclas.

Honorable Melchor D. Diclas, M.D., a loving husband and a father, a passionate doctor and a dedicated, challenged servant leader, a simple man with a vision, God-fearing and currently, the elected Governor of the Province of Benguet.