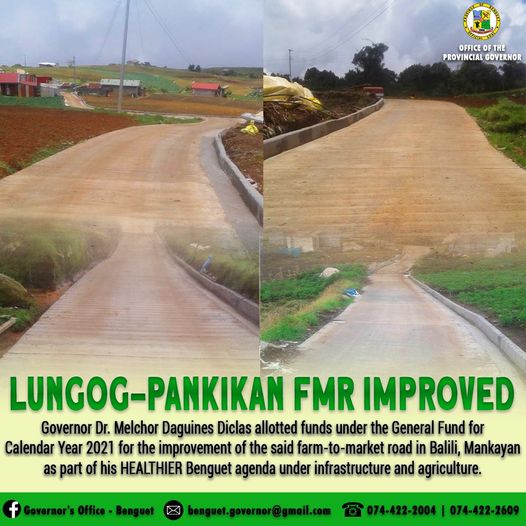 Another farm-to-market road has been improved in Mankayan, Benguet.

The 425-meter stretch Lungog-Pankikan Farm to Market Road in Balili, Mankayan, Benguet has recently been improved to help farmers transport their products to the nearest market without having difficulty driving on rough road especially on rainy days.

Governor Dr. Melchor Daguines Diclas allotted funds under the General Fund for Calendar Year 2021 for the improvement of the said farm-to-market road as part of his HEALTHIER Benguet agenda under infrastructure and agriculture.

The improvement of the road worth P2M is seen to benefit 70 farmers and other residents passing through the road.

The agricultural products being produced by the benefiting locality are highland vegetables such as cabbage, potatoes, carrots, and others.

Governor Diclas thanked the Provincial Engineer's Office (PEO) and other offices concerned for the successful implementation of the project.

He said he hopes more FMRs will be improved to help keep the quality of agricultural products being transported to the market.