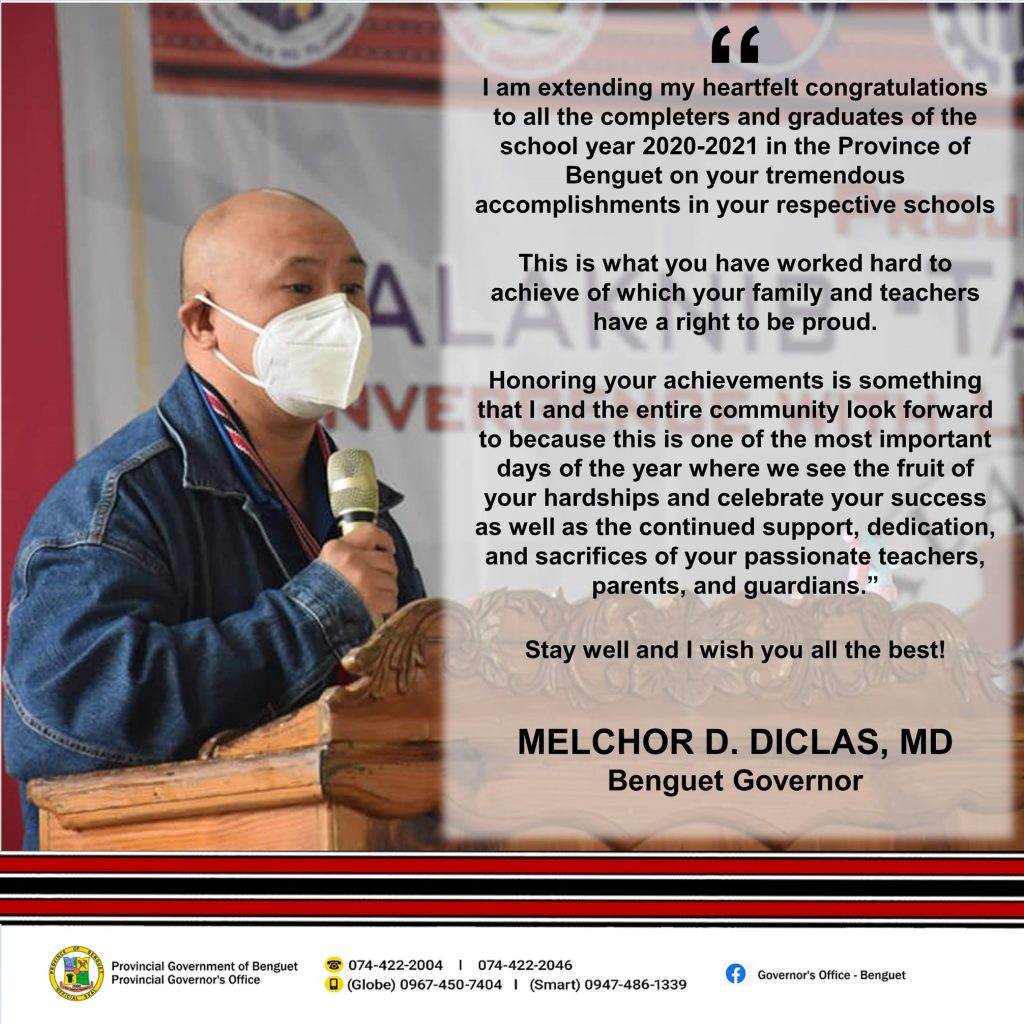 To all the completers and graduates of the school year 2020-2021 in the Province of Benguet, I am extending my heartfelt congratulations on your tremendous accomplishments in your respective schools.
This is what you have worked hard to achieve of which your family and teachers have a right to be proud.
Honoring your achievements is something that I and the entire community look forward to because this is one of the most important days of the year where we see the fruit of your hardships and celebrate your success as well as the continued support, dedication, and sacrifices of your passionate teachers, parents, and guardians.
The pandemic may have caused you a lot of challenges, but you have continued to pursue one of your dreams which is to finish this chapter of your education. And as you begin with another stage of your educational journey, may you always remember how you were able to surpass all the obstacles that came you way.
May you always have the skills and knowledge you have acquired from your teachers, more so the values you have learned all through the years because they are your weapons against chances of disappointments and hindrances as you continue to chase your ambition in life.
As responsible graduates and as our future leaders, you should create goodness around you with your values, ideas, and hard work. I would like to see you hold on to these values and work to build a better community.
I would also like to express my sincere commendation to all the teachers, parents, and guardians who have sacrificed a lot amid the CoVID-19 pandemic just to ensure the continuous learning of our dear students. My snappy salute to all of you! Your unending dedication and commitment are truly reflected in this year's theme "Strengthening the Quality of Education Amid the CoVID-19 Pandemic".
Let us continue to build communities where we provide opportunities and direction for the future generations.
I congratulate you all. Stay well and I wish you all the best!
MELCHOR DAGUINES DICLAS, MD
Benguet Governor