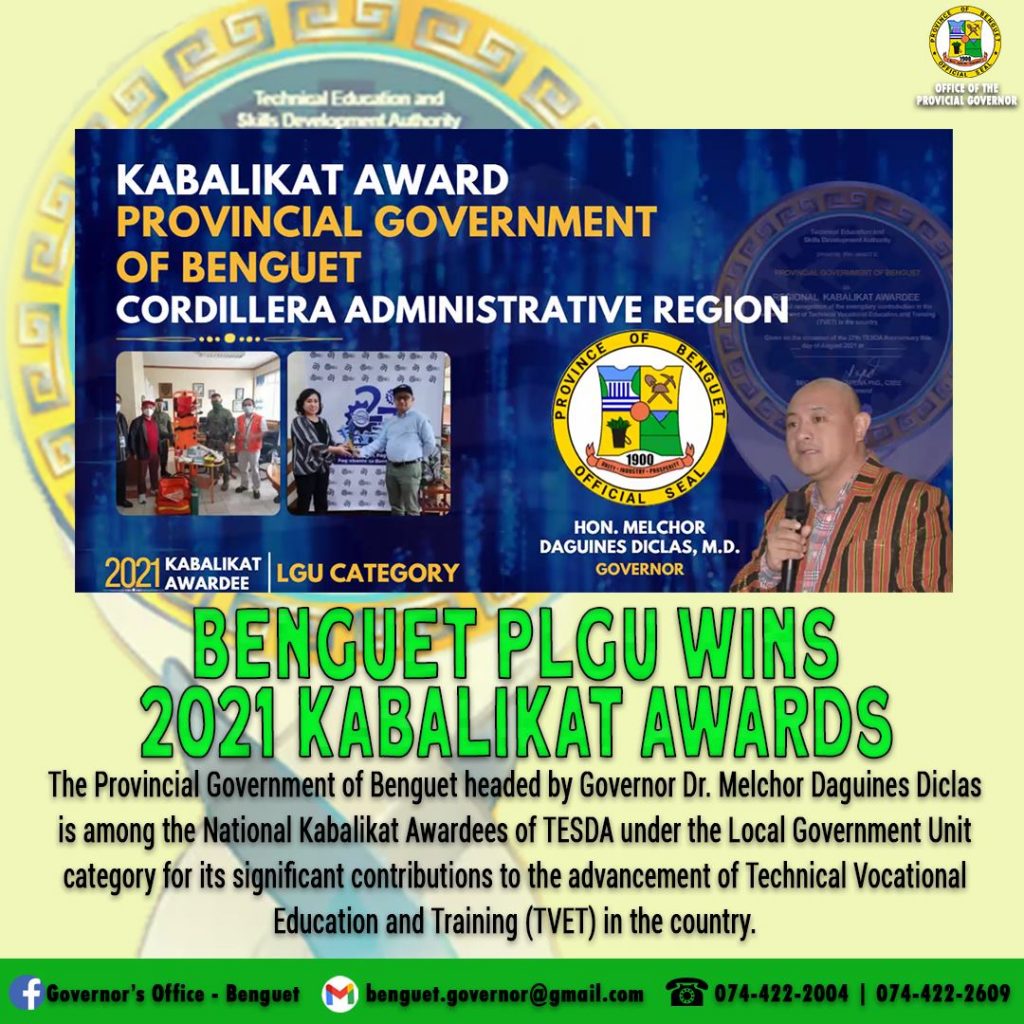 The Provincial Government of Benguet headed by Governor Dr. Melchor Daguines Diclas is among the National Kabalikat Awardees of TESDA under the Local Government Unit category for its significant contributions to the advancement of Technical Vocational Education and Training (TVET) in the country.

TESDA recognized all the awardees during the virtual 2021 Kabalikat and Idols ng TESDA Awarding Ceremony on August 24, 2021 as part of the weeklong celebration of their 27th Anniversary with the theme "TESDA@27: Pagbangon, Pag-asa, at Pag-abante sa Beinte Syete".

The Kabalikat Awards is given to the most active and outstanding partners of TESDA who have assisted the agency in developing, enhancing, and implementing training programs that have resulted in better employability of Filipino skilled workers.

Governor Diclas thanked TESDA for having such program which "truly" motivates the different LGUs and other private sectors to work even better to produce more competent and skilled workers. He also thanked all the personnel of the Benguet Technical School (BTS) and other concerned offices for working in unity to provide quality services to the people of Benguet.

Further, Governor Diclas said the Provincial Governor's Office through the BTS continues to reach out to the youth and other interested individuals in the province to prepare them for work or employment through the different programs and technical courses.

As investment to Technical Education and Skills Development, the Benguet PLGU has also been funding training expenses and Tech-Voc Education Services in support to scholars who are willing to learn and are in need of employment. Moreover, funds have also been released for support services, building maintenance, and new building improvement at the BTS.

Governor Diclas said the Provincial Government of Benguet will always be 'fully supportive' of TVET as it is part of his HEALTHIER Benguet agenda under Livelihood.