Benguet Lists New Highest Daily CoVID-19 Death Tally with 18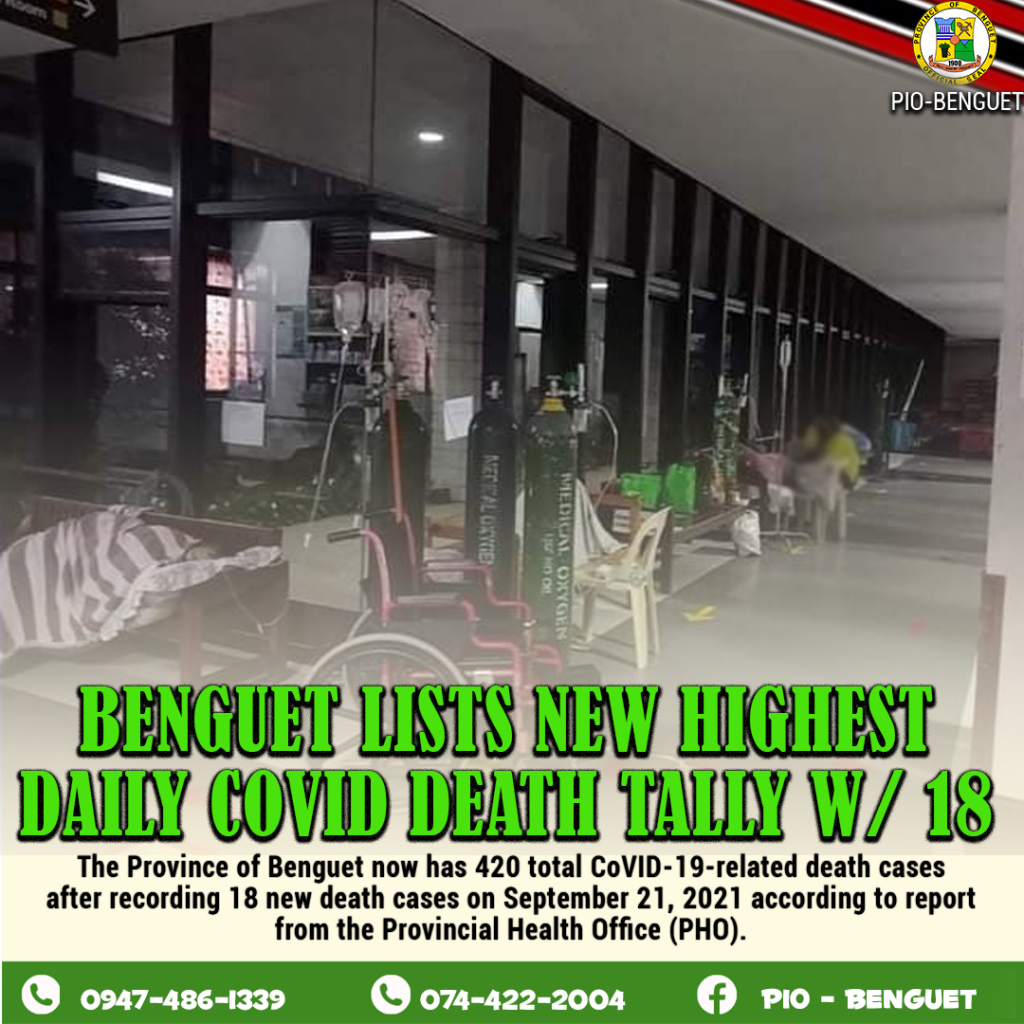 Dagijay saan mangserseryoso iti CoVID-19 ken dagijay agrik-request iti exemption from the health protocols ken restrictions nga inparuwar iti Provincial IATF, maawatan yu kuma nga ada tayon iti worse scenario iti CoVID-19 crisis.
APOR ka man wenu non-APOR, ag-follow ka ladta iti linteg. Awan ganas na no pumigsa iti ekonomiya tayo no adun metten iti makitkita tayo nga kandila ditoy Facebook gapu ti daytoy nga virus.

Further, saan met nga sinmardeng iti ekonomiya tayo. Tuloy-tuloy met ladta, ada laeng iti health protocols nga maipatpatungpal tapnu kasta ket saan nga ma-compromise iti health ti tattao.
Ti kaasian tayo ket dagiti health workers nga nabanbannog ken maku-quarantine piman gapu iti kanayon nga exposure da iti CoVID-19 patients. Ti kaasian tayo ket dagijay pasyente nga marigrigatan, lumablaban tapnu agbiyag da.
Ar-aramiden iti gobyerno iti kabaalan da tapnu macontrol pay daytoy kas-kaso ti CoVID-19 'sunga ada diyay "No Negative RT-PCR test result / Fully Vaccination Card, No Entry" para kadagiti non-Benguet residents nangnangruna dagiti magapgapo iti high risk areas outside Benguet. Kanayon nga tumawtawag ni gobernor Melchor Diclas kadagiti individuals/offices concerned to ensure iti provision iti oxygen nga maysa nga problema dagiti hospital tatta gapu iti ngumatngato nga kaso ti CoVID-19.
Irespeto tayo kuma dagitoy linteg nga pinag-agree-an dagiti myembro iti Provincial IATF (governor, vice governor, board members, mayors, and national line agencies) para matulungan iti health sector nga agparigat nga lumablaban.