Representing the Province of Benguet on the international stage, the Benguet Dancesport Team composed of students from Benguet National High School (BeNHS) and Benguet State University (BSU) racked up medals in solo categories of the recently concluded 20th Seoul Cup Korean Open 2021 1st Online Dancesport Competition on June 26-27, 2021.
Charibelle Pingawan, the team's coach, said the competition only held solo categories as contact sports are still not allowed due to restrictions brought by the CoVID-19 pandemic.
The 11 members of the team did not fail to make the province proud as they confidently did their outstanding dancesport moves and definitely owned the dance floor which put them all through the semi and quarter-finals, if not, as qualifiers.
The team won three silver medals, five bronze medals, and several spots in the finals (top 4, top 5, and top 6).
Meanwhile, these awesome dancers along with two more members also showed their splendid moves during the The Jamili's Scholarship Cup, a national online dancesport competition, on June 12 and 13 where they made the province of Benguet even prouder as they also copped several medals in solo categories.
Being able to win one Gold medal, two Silver medals, three Bronze medals, and spots in the semi and quarter-finals, and in the finals, Pingawan said they were able to make it to the Top 6 in the team standing qualifying the medalists and her as the coach in the 4-session training scholarship of the Jamili's Scholarship where they will be trained by international trainers.
The Provincial Government of Benguet headed Governor Dr. Melchor Daguines Diclas through the Sports Development Office headed by Dean Mark Monang under the Special Services Unit of the Provincial Governor's Office extended its support to the Benguet Dancesport Team by shouldering their registration and food during the said competitions.
Governor Diclas said he was amazed by the performances of the team and that they absolutely made the province so much proud. Further, he said he hopes to see more of their performances on the national and international stages and inspire more young people.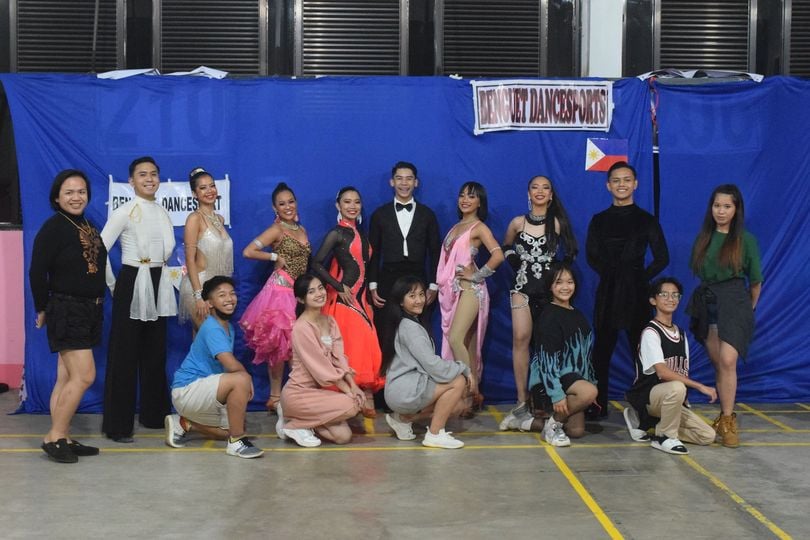 O F F I C I A L R E S U L T S ❗️ ❗️ ❗️
BENGUET DANCESPORT TEAM (BDT)🇵🇭
20TH SEOUL CUP
KOREA OPEN 2021
1ST ONLINE DANCESPORT COMPETITION
Eiji Justine Balao
REGION/ COUNTRY: Benguet, Philippines
Category: Under 16 solo female CR: CJ: CRJ
Award/Rank:
❗CR: ranked 24th out of 38 competitors (QUALIFIER)
❗CJ: ranked 18th out of 32 competitors (QUARTER FINALIST)
❗CRJ: ranked 21th out of 38 competitors (QUARTER FINALIST)
Erick Cabloy
REGION/ COUNTRY: Benguet, Philippines
Category: Under 16 solo male CR: CJ: CRJ
Award/Rank:
❗CR: ranked 6th out of 15 competitors (TOP FINALIST)🏆
❗CJ: ranked 7th out of 11 competitors (SEMI FINALIST)
❗CRJ: ranked 9th out of 18 competitors (SEMI FINALIST)
Ashley Abance
REGION/ COUNTRY: Benguet, Philippines
Category: Under 16 solo male CR: CJ: CRJ
Award/Rank:
❗CR: ranked 7th out of 15 competitors (SEMI FINALIST)
❗CJ: ranked 7th out of 11 competitors (SEMI FINALIST)
❗CRJ: ranked 9th out of 18 competitors (SEMI FINALIST)
Roschan Escalera
REGION/ COUNTRY: Benguet, Philippines
Category: Under 20 solo female CRJ: CSRJ
Award/Rank:
❗CRJ: ranked 13th out of 18 competitors (QUALIFIER)
❗CSRJ: ranked 18th (QUALIFIER)
Jessica Ogbinar
REGION/ COUNTRY: Benguet, Philippines
Category: Under 20 solo female CRJ: CSRJ:
Award/Rank:
❗CRJ: ranked 8th out of 18 competitors (SEMI FINALIST)
❗CSRJ: ranked 9th out of 18 competitors (SEMI FINALIST)
Category: PRE-AMATEUR solo female: CRJ: CSRJ
Award/Rank:
❗CRJ: ranked 8th (SEMI FINALIST)
❗CSRJ: ranked 11TH (SEMI FINALIST)
Mary Luz It-itan
REGION/ COUNTRY: Benguet, Philippines
Category: Under 20 solo female CRJ: CSRJ:
Award/Rank:
❗CRJ: ranked 9th out of 18 competitors (SEMI FINALIST)
❗CSRJ: ranked 12th out of 18 competitors (SEMI FINALIST)
Category: PRE-AMATEUR solo female: CRJ: CSRJ
Award/Rank:
❗CRJ: ranked 10th (SEMI FINALIST)
❗CSRJ: ranked 13TH (SEMI FINALIST)
Jhosan Galvez
REGION/ COUNTRY: Benguet, Philippines
Category: Under 20 solo female CRJ: CSRJ:
Award/Rank:
❗CRJ: ranked 11th out of 18 competitors (SEMI FINALIST)
❗CSRJ: ranked 13th out of 18 competitors (SEMI FINALIST)
Category: PRE-AMATEUR solo female: CRJ: CSRJ
Award/Rank:
❗CRJ: ranked 12th (SEMI FINALIST)
❗CSRJ: ranked 14TH (SEMI FINALIST)
Mico Dumalos
REGION/ COUNTRY: Benguet, Philippines
Category: Under 20 solo male CRJ: CSRJ:
Award/Rank:
❗CRJ: ranked 2nd out of 10 competitors
(SILVER: FINALIST)🥈
❗CSRJ: ranked 2nd out of 10 competitors (SILVER: FINALIST)🥈
Category: PRE-AMATEUR solo male: CRJ: CSRJ
Award/Rank:
❗CRJ: ranked 3rd (BRONZE: FINALIST) 🥉
❗CSRJ: ranked 5th (TOP FINALIST)🏆
Mark Gonzalo Benter
REGION/ COUNTRY: Benguet, Philippines
Category: Under 20 solo male CRJ: CSRJ:
Award/Rank:
❗CRJ: ranked 3rd out of 10 competitors (BRONZE: FINALIST)🥉
❗CSRJ: ranked 3rd out of 10 competitors (BRONZE: FINALIST)🥉
Category: PRE-AMATEUR solo male: CRJ: CSRJ
Award/Rank:
❗CRJ: ranked 10th (QUARTER FINALIST)
❗CSRJ: ranked 6th (TOP FINALIST)🏆
Betty Mae Agad
REGION/ COUNTRY: Benguet, Philippines
Category: Under 20 solo female WTQ
Award/Rank:
❗WTQ: ranked 2nd out of 7 competitors (SILVER: FINALIST)🥈
Category: PRE-AMATEUR solo female: WTQ
Award/Rank:
❗WTQ: ranked 3rd (BRONZE: FINALIST)🥉
Jayson Ace Abenoja
REGION/ COUNTRY: Benguet, Philippines
Category: Under 20 solo male WTQ
Award/Rank:
❗WTQ: ranked 4th (TOP FINALIST) 🏆
Category: PRE-AMATEUR solo male: WTQ
Award/Rank:
❗WTQ: ranked 3rd (BRONZE: FINALIST)🥉
TOTAL TALLY
SILVER- 3
BRONZE- 5
TOP RANKERS- 4
4TH PLACE- 1: 5TH PLACE- 1: 6TH PLACE-2