BeGH Hemodialysis Center a Big Help for Indigent Patients: Diclas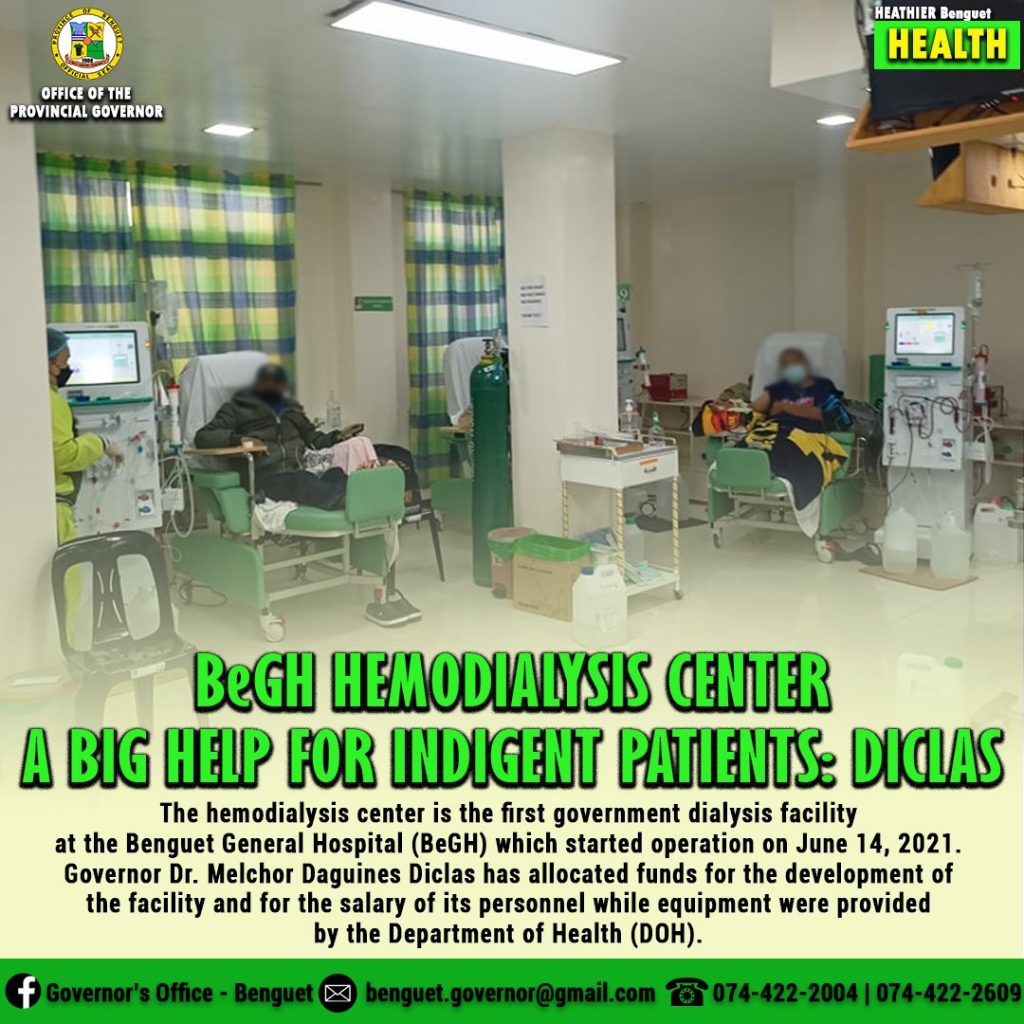 BeGH HEMODIALYSIS CENTER A BIG HELP FOR INDIGENT PATIENTS: DICLAS

Over 70 regular patients are benefitting from the free dialysis services at the Hemodialysis Center in Benguet General Hospital (BeGH) which started operation on June 14, 2021 according to Rowena Tayaban, staff at the said facility.

The said dialysis center is the first government dialysis facility at the BeGH after governor Dr. Melchor Daguines Diclas allocated funds for the development of its infrastructure last year as well as for the salaries of its manpower. Meanwhile, the Department of Health (DOH) provided the 10 sets of dialysis equipment being used at the facility.



Governor Diclas said this is a big help especially for indigent patients since the two existing dialysis centers at the BeGH which have been serving the public for years are "free-standing" centers renting at the hospital.
Dr. Sean Chinawog, one of the physicians assigned at the facility, said they are conducting around 27 sessions per day with the three-shift scheduling of their manpower. He also said they need to extend to four shifts sometimes to serve CoVID-19 patients who need dialysis services.
There are around 20 personnel at the facility working on a shifting schedule headed by Dr. Maricar Geronimo.
Dialysis patients are given 144 free sessions yearly through PhilHealth, but according to Tayaban the patients still receive free services even when they exhaust the 144 sessions because of the financial assistance programs of the government through the Malasakit Center.
#HEALTHIERBenguet
#UnitedBenguet